Screenshoter
Capture your screen with a single mouse-click.
Screenshots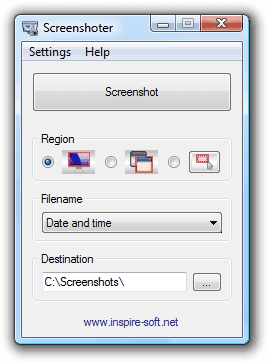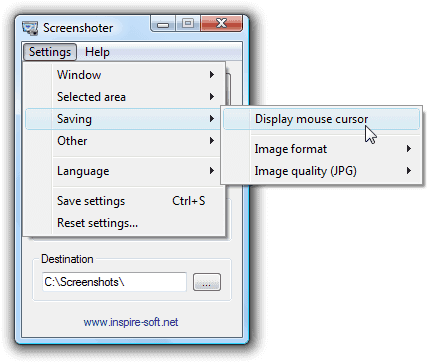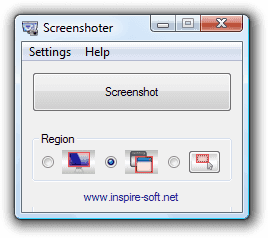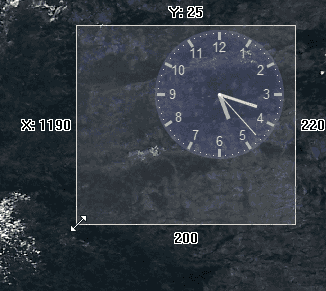 Download
Version: 1.92 | Size: 293KB | Type: Windows Executable
…it's absolutely free and without installation!
Main Features
Easy: Just click the button or push Print Screen key
Capture whole screen, active window or select an area
Optionally show the cursor on the screenshot
Save your results as JPG, PNG or BMP images
Automatic filename: Numbering, time & date or ask every time (incl. Smart Naming)
Special Compact Mode & minimize to notification area
Multilingual: 🇩🇪, 🇬🇷, 🇺🇸, 🇪🇸, 🇪🇪, 🇫🇷, 🇮🇹, 🇯🇵, 🇳🇱, 🇵🇹, 🇷🇺, 🇹🇷
Portable: Just one executable, no need for installation
Overview
Screenshoter leaves quite an impression by providing more than the basics one may need for creating desktop snapshots fast, easy and with very good quality.

Softpedia.com
Every unnecessary feature has been kept out without exception. Click on the button or push the Print Screen key on your keyboard and the screen will be directly saved as an image – Done!
It's still possible to customize all settings: Capture just a certain area of the screen or the currently active window, display the mouse cursor or set the saving image format (JPG, PNG or BMP). Other features such as naming the screenshots after numbering (incl. Smart Naming) or date and time, setting up the image quality and automatically copying the screenshot to the clipboard are available as well. Moreover Screenshoter has a special Compact Mode and can be minimized to the tray so it doesn't block your work.
Worth mentioning is that full screen applications can be captured as well. With this advantage it's easily possible to create high quality screenshots of games, websites, office programs and even movies!
Free Download …or more details: Supporter Version, Feature List , Release Notes